Credit: "No Name D" / Flickr - July 13th, 2015
I'm not sure what the story is here, so I'm putting it out on the Internet to see if someone can fill in the blanks. It seems on June 4th 2015 three USAF McDonnell Douglas F-15E Strike Eagles from RAF Lakenheath landed at Gander International Airport (CYQX) with a Boeing KC-135 Stratotanker.
Why is this interesting?
Several reasons.
At the time there was a rumour of an in-flight emergency, but I can't find any details.
There is also a rumour they were on their way to Iraq and/or the Azores (on their way to Iraq I guess?), but they're still there, as of last week.
The tail numbers of the planes are 98-0134, 91-0605 and 91-0332.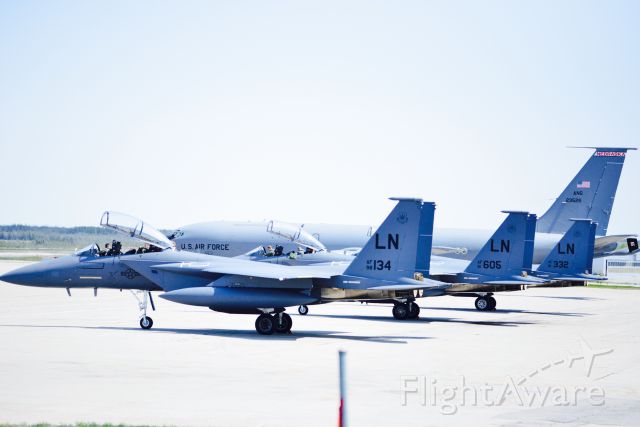 Photo Courtesy of FlightAware.com - Rick Stead
Each of these planes are usually at RAF Lakenheath in the UK, as shown by the LN on their tail. (ref
http://www.au.af.mil/au/awc/awcgate/af/tail_markings.pdf
)
However, the tail also usually has a red or blue stripe along the top indicating their squadron, and the squadron number was painted on the tail as early as last year (ref:
http://www.f-15e.info/joomla/operators/134-tailcodes#0-7-ln
) What does the lack of squadron number mean? Are these being decommissioned, or redistributed to another base?
Either way, why keep the LN while in transit..?
Could this be related to the USAF re-org from the beginning of January 2015? (ref:
http://theaviationist.com/2015/01/09/uk-base-selected-to-host-first-u-s-f-35-jets-in-europe/
)
More pictures here:
http://flightaware.com/photos/airport/CYQX/sort/date
http://jetphotos.net/showphotos.php?location=Gander%20Int%27l%20Airport%20-%20CYQX
...and HD video!
...and big thank you to Marcus and Todd for sending me photos when they were in Gander recently :)